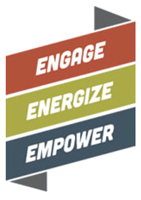 The annual fall conference for the National Agri-Marketing Association was held in St. Louis September 17-18 with theme of "Engage, Energize, Empower." Photos and audio from the event are posted here.
2013 NAMA Fall Conference Photo Album
2013 NAMA Fall Conference Conference chair Sara Steever, Paulsen Marketing
Coach Billick on Elements for Success Interview with Brian Billick
Students at NAMA Fall Conference Interview with Students
2013 NAMA Professional Development Awards
Marketing Communications – Gary Sakin, Monsanto Public Relations Linda Romander, Broadhead Product Management – Zach Hetterick, Case IH Sales – Jay Carlson, BEEF Magazine
Policy Panel at NAMA Fall Conference – Interview with Mike Deering, Missouri Cattlemen's Association
Leading NAMA into a New Year – Interview with Paul Redhage, Outgoing NAMA President Interview with Kenna Rathai, New NAMA President
Does Big Data Have a Role in Agri-Marketing? – Interview with Jay Harrison, Data Mining Innovations Director at Maritz
What Does Climate Change Mean to Agriculture – Interview with Rodger Getz, AWIS Weather Services, Inc.