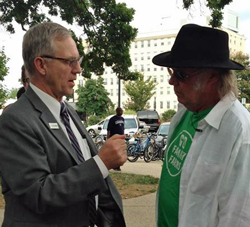 The National Farmers Union held a star-studded press conference Monday in Washington to highlight two important issues for agriculture – passing a farm bill this year, and maintaining the Renewable Fuel Standard (RFS).
Speakers at the event included Senate Majority Leader Harry Reid (D-NV) , Senate Agriculture Committee Chair Debbie Stabenow (D-MI), legendary rocker Neil Young, and NFU President Roger Johnson. Photo from NFU Facebook page is of Johnson and Young.
Johnson talks about NFU Fly-in and press event – Interview with NFU President Roger Johnson
Reid remarks on ethanol and Neil Young – Portion of Sen. Reid comments Stabenow comments on farm bill – Sen. Stabenow remarks
Neil Young Rocks for Ethanol – Excerpt of Neil Young comments
Special thanks to Agri-Pulse for providing better audio than I was able to record through a cell phone on the speaker from the event!