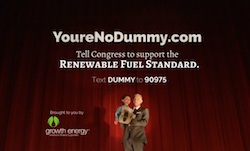 In response to the major ad campaign funded by Big Oil in an effort to block higher blends of ethanol into the marketplace (such as E15) ethanol advocacy group Growth Energy has launched an advertising campaign called "You're no Dummy". The goal of the campaign is to help Americans better understand that the oil industry is trying to stop the growth of renewable fuels for the purpose of protecting their bottom line.
"The campaign we have launched today is designed to do one thing – show consumers that the oil industry has attempted to deceive them over and over again and it's time they stop being treated like puppets by the oil industry," said Tom Buis, CEO of Growth Energy during a media call. "It is time consumers are allowed a choice when they fill up at the pump – a choice that allows them to not only save their own hard-earned money, but also spend their money on an American product that creates American jobs, promotes energy independence and improves our environment."
As part of the "You're no Dummy" campaign, ads will air nationally on major cable news networks such as FOX, CNN, MSNBC and RFD-TV, as well as several local markets. The multi-media campaign also includes print, radio and social media.
Listen to the "You're no Dummy" press conference here: Growth Launches You're No Dummy Campaign