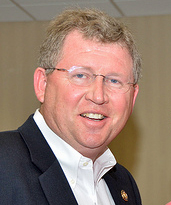 Momentum seems to be building for a vote in the House on a farm only farm bill – but only if the votes are there. During a town hall meeting in Oklahoma over the July 4th recess, House Ag Committee Chairman Frank Lucas indicated that he expected leadership to split the bill but he would rather not see that happen.
"If we split it, I gotta have 218 Republicans vote for it," said Lucas. "I'm going to vote for it … I don't know whether they'll come with me or not."
Lucas is concerned about what will happen in conference even if they do manage to get a farm-only bill passed in the House. "The Senate has passed a combination bill," he said. "What will happen is they will agree to go to conference with me on the farm side and they'll refuse to ever go to conference on food stamps." That, he explains, would mean no savings in the food assistance programs at all.
Audio sound bite from Lucas town hall: Rep. Frank Lucas 7-1-13