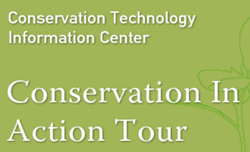 The 2013 Conservation In Action Tour was held July 9-10 in the Indian Creek Watershed in Livingston County, Ill.
The event featured tours of farming operations and presentations from farmers, conservation partners, crop consultants, government agency representatives and others. Links on this page include the event photo album, stories posted on websites, and audio files.
2013 Conservation in Action Tour Photo Album
Conservation Resources Vital to Farmers – Interview with Jason Weller, Acting Chief USDA-NRCS
Farmers Need Conservation & Research – Interview with Indiana farmer John Hardin
Welcome to CTIC Conservation in Action Tour from Board Chair – Interview with Dave Gustafson, Monsanto
CTIC Tour Fosters EPA Watershed Understanding – Interview with Denise Keehner, EPA Director, Office of Wetlands, Oceans and Watersheds Luncheon Remarks from Denise Keehner
GROWMARK: CTIC Support is Being Good Stewards – Interview with Dan Maggart, GROWMARK
High Flying Seeds Ground Cover – Interview with Eric Smith, Pontiac Flying Service
CTIC: Soil Health Key to Crop Health – Interview with Hans Kok, Indiana Conservation Cropping Systems Initiative
Conservation Work Helps Farmers Avoid Regulations – Interview with Marcia Willhite, Illinois Environmental Protection Agency
CTIC Panel Addresses Soil Quality, Nitrate Levels – Interview with Marcus Maier, CTIC panelist, local farmer
Communication Key to Cooperation in CTIC Tour – Interview with Marion Schier, Agronomist, United Soils, Inc.
CTIC: Using Cover Crops to Boost Yields – Interview with Mike Plumer, cover crop specialist
Farmer Appreciates Crowds, Support on CTIC Tour – Interview with Mike Trainor, Trainor Farms
Corn Growers Adopting New Conservation Practices – Interview with Dan Cole, corn grower
CTIC is Good Way to Show Good Practices – Interview with Pauley Bradley, John Deere and a board member of CTIC
Good Drainage Key to Managing Watershed Runoff – Interview with Phil Algreen with Agri Drain
CTIC Tour Host Big Believer in Filter Strips – Interview with Terry Bachtold, host on CTIC tour
Farmers Want to Save Nitrogen, Too! – Interview with Tim Smith, Cropsmith
Case IH's Long History with CTIC – Interview with Alan Forbes, Case IH
Monsanto Part of CTIC Conservation Efforts – Emilio Oyarzabal, Monsanto
Investing in Illinois Soil's Wealth – Jean Payne, President of the Illinois Fertilizer and Chemical Association