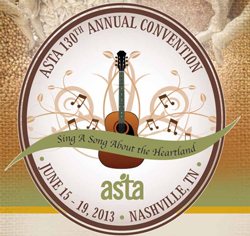 The American Seed Trade Association (ASTA) is holding its 130th annual convention in Nashville, Tennessee June 15-19.
ASTA represents the interests and concerns of the seed industry in the United States and around the world.
ASTA Annual Meeting Photo Album
Below are links to stories on AgWired.com and accompanying audio files.
ASTA Convention Tackles Industry Issues Interview with ASTA CEO Andy LaVigne Welcoming by LaVigne
ASTA at the Grand Ole Opry – Interview with Syngenta Seeds singer Levi Riggs Two ASTA Chairs Reflect on Industry – Interview with Blake Curtis and Craig Newman Lowell Catlett at ASTA – Lowell Catlett Keynote ; Interview with Lowell Catlett ASTA Honorary Lifetime Member – Kelly Keithly Honorary Lifetime Member FuSE program grows future ASTA members – Interview with Liz Pestow ASTA State of Agribusiness Panel Discussion –
Ross Harvey, AdFarm Blake Sieker, Context Network Kevin Ferguson, University of Tennessee Ferguson Interview Update on The Accord – Interview with Bernice Slutsky Seed Advocate Program Launched at ASTA Meeting – Interview with Pat Miller ASTA elects first woman to officer team – Interview with Risa DeMasi