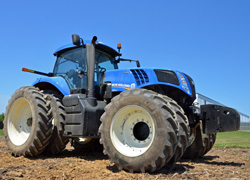 This week New Holland introduced the new Genesis T8 Series of tractors at their headquarters in Pennsylvania. You can find a lot more photos of the new Genesis here: New Holland Genesis T8 Series Tractor Photo Album

To commemorate the 20th anniversary of the industry-changing GENESIS™ tractor, New Holland has built a machine to honor its legacy—the GENESIS™ T8 Series tractor. No matter what your agricultural demands include, you can rely upon the new GENESIS™ T8 series tractor to get things done—just as the original tractor did!

Interview with Gary Wojcik, Segment Marketing Manager, Large Horsepower Tractors
Video of tractor with interview on YouTube.