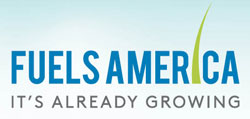 Fuels America held a press conference on April 17, 2013 to highlight sustainability improvements from farm to fiber to fuel.  During the press call farmers and ethanol industry experts gave a briefing on the increased sustainability measures taken in renewable fuel production from farm to fuel tank.
Participants of the call included Fred Yoder, farmer and past president of the National Corn Growers Association, Jan Koninkx, business director for biofuels with DuPont and Adam Monroe, president of Novozymes North America.
Audio of the full press conference can be downloaded from the link below.
Get Your Green on with Biofuels