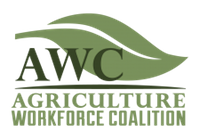 Leaders from the Agriculture Workforce Coalition (AWC) held a press conference Wednesday (4/17/13) to highlight the crucial stake American agriculture has in immigration reform. Late last week, a landmark agreement on immigration reform was reached by the AWC, the United Farm Workers (UFW), and key Senators.
Participating in the news conference were National Council of Farmer Cooperatives president Chuck Conner, National Milk Producers president Jerry Kozak, Western Growers Association president Tom Nassif, United Fresh Produce Association president Tom Stenzel, Florida Fruit and Vegetable Association president Mike Stuart, U.S. Apple Association president Nancy Foster, and United Farm Workers President Arturo Rodriguez.
Audio of the full press conference can be downloaded from the link below.
AWC press conference