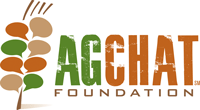 Americans may have noticed a new social media trend this past year: more Facebook posts from the farm, more tweets from the tractor and more blogs from the back forty.
The timing of this social media "stampede" couldn't be better, says Jeff Fowle, president of the AgChat Foundation. Celebrating its one-year anniversary today, the AgChat Foundation is a 100-percent volunteer organization formed to empower farmers and ranchers to effectively tell their stories using social media. He says in one 2010 study1 conducted by the Hartman Group, 59 percent of consumers purchasing local said they wanted a "connection to the farmer."
In just 12 months, AgChat Foundation has successfully inspired farmers to add tweets and posts to their daily chores. It even earned a coveted spot on the 2011 SXSW® Interactive Festival program, last month, presenting alongside the country's brightest in emerging technology.
Yet, its greatest achievements, Fowle says, are the hundreds of farmers it has inspired to "agvocate" for agriculture, and the thousands of consumer conversations it has spurred.
Full Release (Word Doc)