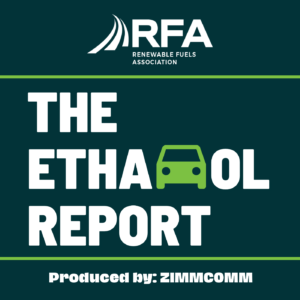 After waiting until the very last minute, the Environmental Protection Agency issued an emergency fuel waiver to allow E15 gasoline — gasoline blended with 15% ethanol — to be sold during the summer driving season this year. A decision had to be made before April 30 so terminal operators would still be able to sell the blend after May 1.
In this edition of the Ethanol Report podcast, Renewable Fuels Association Senior Vice president for Government and Public Affairs Troy Bredenkamp talks about the waiver and what comes next to avoid the same situation next year. The report also includes audio with EPA Administrator Michael Regan, Rep. Randy Feenstra (R-IA), and Rep. Rusty Johnson (R-SD) from a House Agriculture Committee hearing held April 19.
Listen to or download the Ethanol Report – and subscribe on your favorite podcast platform so you never miss an episode.
Ethanol Report 4-28-23
22:44
The Ethanol Report is a podcast about the latest news and information in the ethanol industry that has been sponsored by the Renewable Fuels Association since 2008.
Choose an option to subscribe