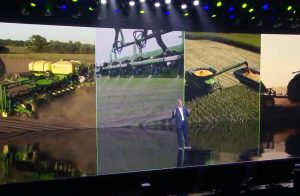 The massive CES 2023 Consumer Electronics Show in Las Vegas kicked off this week with a keynote address by John Deere featuring Chairman and CEO John May and new product announcements.
This is the first time in CES history that an agriculture technology company was featured as a keynote at the show. John Deere first debuted at CES 2019 and has been exhibiting each year since, highlighting the importance of innovation in agriculture. "I know some of you are wondering, why should you care about farmers when they represent less than two percent of the U.S. population," said May. "It's farmers from across the world who undertake the enormous task of growing the food, fuel and fiber we all need."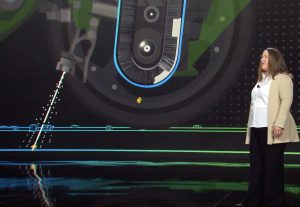 Deanna Kovar, Deere Vice President of Production and Precision Ag Production Systems, had the pleasure of introducing a new planting technology called ExactShot, which allows farmers to reduce the amount of starter fertilizer needed during planting by more than 60 percent. "The technology uses sensors and robotics to place starter fertilizer precisely onto seeds as they are planted in the soil, rather than applying a continuous flow of fertilizer to the entire row of seeds," said Kovar.
Last year at CES, Deere introduced a fully autonomous tractor ready for large-scale production. While attendance at the huge event was down last year post-COVID, CES 2023 is expected to have as many as 100,000 attendees this year.
Listen to May and Kovar's remarks this morning at CES 2023 below and you can watch the livestreamed video here.
CES 2023 John Deere keynote
(30:38)