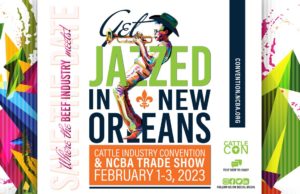 This is where you'll find links to photos, audio, and other information from the 2023 Cattle Industry Convention and NCBA Trade Show, in New Orleans, LA, February 1-3.
This newsroom will be updated continuously during the convention and will remain as an archive for content after the event.
This virtual ag newsroom includes links to digital media content available free of charge for digital or print publication or broadcast.
Photos
2023 Cattle Industry Convention and NCBA Trade Show Photo Album
Press Releases
There's Still Time to Register for Annual Cattle Industry Convention
NCBA Announces 2023 Policy Priorities
Today's Beef Consumer Report
Cattlemen's College Draws Big Crowd in New Orleans
The Good Times are Rolling at the Annual Cattle Industry Convention
2022 Environmental Stewardship Award Program Regional Winners Announced
Sixth-Generation Cattle Rancher Announced as 2022 Advocate of the Year at Annual Cattle Industry Convention
USDA Deputy Secretary Shares Updates at Cattle Industry Convention
South Dakota Cattleman Becomes New NCBA President
National Cattlemen's Foundation Announces 2023 CME Group Beef Industry Scholarship Recipients
Excellence Recognized During Annual Cattle Industry Convention
Audio Interviews
NCBA Officers
Don Schiefelbein, NCBA president and cattle producer from Minnesota
2023 CattleCon interview with NCBA president Don Schiefelbein (4:14)
Todd Wilkinson, NCBA President-elect and cow-calf operator from South Dakota
2023 CattleCon interview with NCBA president-elect Todd Wilkinson (5:19)
Mark Eisele, NCBA Vice President from Wyomming
2023 CattleCon interview with NCBA vice president Mark Eisele (5:18)
Federation Chair Brad Hastings, TX,
2023 CattleCon interview with Federation Chair Brad Hastings (4:45)
Federation Vice Chair Clark Price, ND
2023 CattleCon interview with Federation Vice Chair Clark Price (3:45)
NCBA Policy Chair Buck Wehrbein, Nebraska
2023 CattleCon interview with Buck Wehrbein, NCBA Policy Chair (6:07)
NCBA Policy vice chair Gene Copenhaver, Virginia
2023 CattleCon interview with Gene Copenhaver, NCBA Policy Vice Chair (6:08)
NCBA Staff
Preview interview with NCBA Executive Director of Meetings and Events Kristin Torres.
2023 CattleCon preview - Kristin Torres, NCBA (4:26)
Colin Woodall, Chief Executive Officer of the National Cattlemen's Beef Association
2023 CattleCon interview with NCBA CEO Colin Woodall (8:28)
Ethan Lane, NCBA Vice President of Government Affairs
2023 CattleCon interview with Ethan Lane, NCBA (10:26)
Mary-Thomas Hart, NCBA Environmental Counsel
2023 CattleCon interview with Mary-Thomas Hart, NCBA (10:10)
Kaitlynn Glover, NCBA Executive Director of Natural Resources and Executive Director of the Public Lands Council
2023 CattleCon interview with Kaitlynn Glover, NCBA and PLC (10:28)
Kent Bacus, NCBA Government Affairs
2023 CattleCon interview with Kent Bacus, NCBA (9:34)
Dr. Julia Herman, NCBA Beef Cattle Specialist Veterinarian, Beef Quality Assurance program
2023 CattleCon interview with Dr. Julia Herman, NCBA (7:19)
Other interviews
Sixth-Generation Cattle Rancher Announced as 2022 Advocate of the Year – Tucker Brown of Throckmorton, Texas
2023 CattleCon interview with Beef Advocate Tucker Brown (5:09)
Shaye Koester, Trailblazer program, North Dakota
2023 CattleCon interview with Shaye Koester, North Dakota (3:45)
CattleFax Forecasts Producer Profitability in 2023 with Potential Drought Relief for the West
Kevin Good, vice president of industry relations and analysis at CattleFax
2023 CattleCon interview with Kevin Good, CattleFax (4:45)
Randy Blach, CEO, CattleFax
2023 CattleCon interview with Randy Blach, CattleFax (6:28)
2022 Environmental Stewardship Award Program Regional Winners Announced
Region IV: Parks Ranch, Goliad County, Texas – David Crow
2023 CattleCon interview with ESAP regional winner David Crow, Texas (9:55)
Region V: Mannix Brothers Ranch, Helmville, Montana – David Mannix
2023 CattleCon interview with ESAP regional winner David Mannix, Montana (9:39)
Region VI: Fulstone Ranches, Smith, Nevada – Emily Fulstone
2023 CattleCon interview with ESAP regional winner Emily Fulstone, Nevada (6:10)
Greg Hanes, Cattlemen's Beef Board CEO
2023 CattleCon interview with Greg Hanes, CBB (7:59)
Cattlemen's Beef Board chair Norman Voyles, Jr.
2023 CattleCon interview with Norman Voyles, Jr., CBB (7:15)
Dan Halstrom, USMEF President and CEO
2023 CattleCon interview with Dan Halstrom, USMEF (5:52)
Lance Zimmerman, Rabo AgriFinance, Sr. Analyst for Animal Protein
2023 CattleCon interview with Lance Zimmerman, Rabo AgriFinance (5:06)
Cattlemen's College presenter Laurentia VanRensburg, technical mineral manager at Alltech
2023 CattleCon interview with Laurentia VanRensburg, Alltech (2:52)
Dr. Mark Lyons, President and CEO, Alltech
2023 CattleCon interview with Dr. Mark Lyons, Alltech (8:05)
Dr. Shelby Roberts, Beef Technical Support, Alltech – Buck Island Ranch Florida project
2023 CattleCon interview with Dr. Shelby Roberts, Alltech (8:05)
Session Audio
DC Issues Update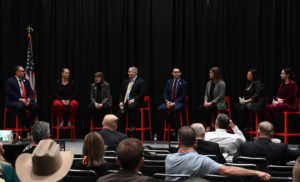 Vice President of Government Affairs Ethan Lane and his team provide a briefing on issues important to the cattle industry.
Allison Rivera Executive Director, Government Affairs
NCBA Chief Veterinarian Kathy Simmons
Kent Bacus Executive Director, Government Affairs
Tanner Beymer, Senior Director for Government Affairs
Kaitlynn Glover, NCBA Executive Director of Natural Resources and Executive Director of the Public Lands Council
Mary-Thomas Hart, Environmental Counsel
Sigrid Johannes, Associate Director for the Public Lands Council and NCBA Natural Resources
2023 CattleCon DC Issues Update (1:42:58)
USDA Pilot Cattle Contracts Library
USDA AMS Administrator Bruce Summers and Associate Deputy Administrator Taylor Cox
2023 CattleCon USDA Pilot Cattle Contracts session (30:08)
National Anthem winner Frankie Moscato
2023 CattleCon Star Spangled Banner, Frankie Moscato (1:37)
Opening general session –
Host Buzz Brainard, National Cattlemen's Beef Association president Don Schiefelbein, American National Cattlewomen president Reba Mazak, and Cattlemen's Beef Board chair Norman Voyles, Jr.
2023 CattleCon general session - organization leadership (13:19)
CattleFax 2023 U.S. & Global Protein & Grain Outlook
2023 CattleCon CattleFax report by Kevin Good (23:02)
2023 CattleCon CattleFax report by Randy Blach
(24:28)
USDA Deputy Secretary Jewel Bronaugh remarks
2023 CattleCon USDA Deputy Secretary Jewel Bronaugh (16:02)
Traceability panel – moderated by Ethan Lane
NCBA president-elect Todd Wilkinson; Tanner Beymer, Senior Director for Government Affairs; Nevada Director of Agriculture Dr. J.J. Goicoechea
2023 CattleCon Traceability panel (35:21)
Risk Management session – moderated by Ethan Lane
USDA RMA specialist Cody Lovercamp
2023 CattleCon Risk Management session (32:31)
Farm Credit Terrain™ press conference
2023 CattleCon Farm Credit Terrain™ press conference (26:42)