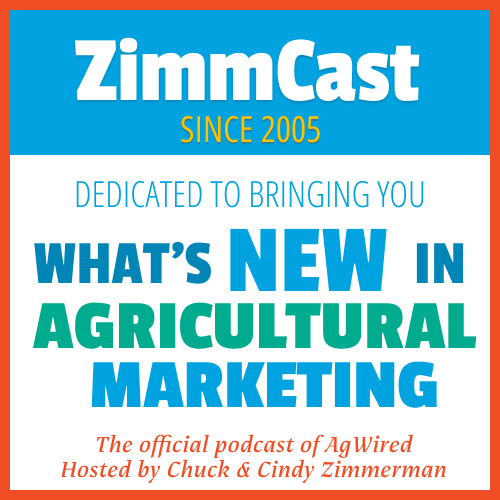 Hello and welcome to the ZimmCast.
We're reached another milestone. This is episode 700 of the podcast that started back at the beginning of 2005. You can find them all on AgWired.com by searching the category link for the ZimmCast.
This week I'm going to share a few interviews from my week last week in Minneapolis. This includes the NAMA Fall Conference followed by the Export Exchange. First we'll hear from Matt Coniglio, Farm Progress, and chair of the NAMA Foundation. Next up is Brian Torrey, John Deere, who is the chair for the 2023 Agri-Marketing Conference which will take place in St. Louis next April. He provides a little look ahead for that.
After the NAMA Fall Conference I changed hotels for the Export Exchange which is an opportunity for foreign grain buyers to come visit with farmers, agribusiness companies and the U.S. Grains Council, Renewable Fuels Association and Growth Energy, who partner to put the even on. First up is Ryan LeGrand, U.S. Grains Council President/CEO. Next Ann Lewis of the RFA provides current numbers for the exports of U.S. ethanol and dried distillers grains.
It was a busy week in Minneapolis but later this week I'll be in the Georgia woods hunting deer. Looking forward to a little R&R.
Listen to the ZimmCast here:
ZimmCast 700 - NAMA Fall Conference & Export Exchange (17:56)
So, that's the ZimmCast for this week. I hope you enjoyed it and thank you for listening.
Want to sponsor the ZimmCast? Just let me know and we can talk through ideas for your company. I'm AgriBlogger on Twitter or just email me at chuck@zimmcomm.biz.
Subscribe to the ZimmCast in: