Traction™, a comprehensive farm accounting solution, is now connected to the Climate FieldView™ platform, providing farmers the option to share field records seamlessly from their FieldView account. With this new capability, Traction delivers accurate field profitability analysis and up-to-date inventory tracking for farmers across the U.S.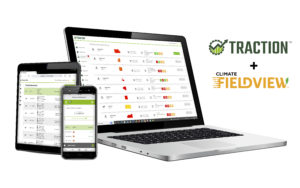 This new connection is unique to the industry due to the integration of Traction's farm accounting software. As field records are created automatically from the FieldView platform, Traction can assign exact costs to products and equipment from actual accounting entries. This enables farmers to see their margin per bushel, immediate visibility of their product inventories, and a clear picture of their overall profit on the farm.
"Reducing manual data entry and tying information back to your actual accounting numbers is our top priority," said Ian Harley, Traction's CEO. "Other companies claim to have accurate field costing but Traction is the only company to use actual financial data to drive field profitability analysis. We look forward to adding other integrations in the future that greatly enhance value for the farmer."
"With every decision a farmer makes, profitability of those decisions is always top of mind," said Marc Harris, Partner Engagement and Outreach for Climate LLC and Digital Farming at Bayer. "Easily collecting data with FieldView and connecting to a partner like Traction delivers value in a streamlined process when combining field level data insights and farm accounting."
For more information and a free 30-day trial, please visit www.tractionag.com.
###
About Traction
Traction is an independent farm management software company that is employee and farmer owned. Traction develops innovative cloud-based technology to streamline farm data workflows, helping farmers make smarter business decisions throughout the growing season. Traction can automate accounting transactions, monitor farm profitability, simplify payroll, create farm-specific financial reports and more. Traction is built to provide future integrations with multiple industry partners, agronomy and financial, to deliver a comprehensive solution. All information is accessible from any connected device, including your phone and tablet. Traction is located in Auburn, Indiana. For more information, visit: www.tractionag.com.
Media Contact:
Brian Stark
Traction Marketing Director
260-207-4712
brian@tractionag.com