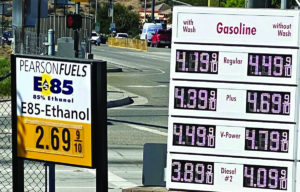 Sales of E85 flex fuel (85 percent ethanol blended fuel) are soaring to new heights in California as drivers of flex fuel vehicles are finding out they can pay a lot less for a fill up.
E85 sales in California increased 55 percent last year over 2020 and Pearson Fuels, California's largest provider of E85, saw an increase of over 20 percent already from January to February of this year.
Pearson Fuels Director of Business Development Greg Jones talks about how the big price difference between regular unleaded and E85 is making people take another look at their gas cap to see if they have a flex fuel vehicle. California has nearly 1.3 million flex fuel vehicles (FFVs) on the road today and Jones says they always encourage motorists to check for a yellow gas caps.
Interview with Greg Jones, Pearson Fuels
(11:56)