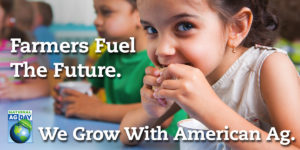 President Joe Biden proclaimed March 23 as National Ag Day, the fifth year that The White House has publicly recognized National Ag Day as a salute to the contributions of America's farmers, ranchers and agribusinesses. The proclamation highlights how American agriculture has stepped up over the past year to ensure a safe and abundant food supply and highlights that ag will play a critical role in combating climate change.
National Ag Day activities were virtual this year instead of in-person in Washington, DC. On the program were two state governors with messages about today's celebration.
First up was Governor Laura Kelly (D-KS): Governor Kelly Remarks
And next was Governor Mike Parson (R-MO): Governor Parson Remarks
Agriculture Secretary Tom Vilsack recorded a video to celebrate this week in honor of farmers and ranchers.