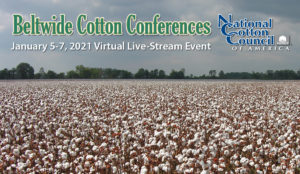 With the continued concerns regarding the spread of COVID-19, the National Cotton Council has replaced the in-person 2021 Beltwide Cotton Conferences with a fully virtual meeting January 5 through 7. The virtual platform, utilizing existing on-line meeting technology, will include three days of live-streamed individual reports and panel discussions from the technical sessions along with poster presentations and seminars designed to provide attendees with information they need to help producers make key cotton production/marketing-related decisions.
This virtual ag newsroom includes links to digital media content available free of charge for digital or print publication or broadcast.
2021 Beltwide Program Overview
Beltwide Cotton Conferences Program pdf
Photos
2021 Beltwide Cotton Conferences Image Album
Audio
Interviews
Wrap up interview with Dr. Gary Adams, NCC President and CEO
2021 Beltwide Cotton wrap up with Gary Adams, NCC 15:33

Lauren Krogman, NCC Manager for Marketing & Processing Technology, and Marjory Walker, NCC Vice President for Council Operations
2021 Beltwide Cotton preview with Lauren Krogman & Marjory Walker, NCC 5:14

Beltwide session presenter Eric Snodgrass, Principal Atmospheric Scientist, Nutrien Ag Solutions
2021 Beltwide Interview with Eric Snodgrass, Nutrien 10:12

National Cotton Council Vice President of Economics and Policy Analysis Jody Campiche – cotton market outlook
2021 Beltwide Interview with Jody Campiche, NCC 9:48

Cotton Incorporated Senior Director of Agricultural & Environmental Research Ed Barnes – Partnerships for Data Innovation (PDI) Cotton
2021 Beltwide Interview with Ed Barnes, Cotton Incorporated 9:19

Cotton Incorporated Senior Economist Jon Devine – Impact of COVID on cotton supply chains
2021 Beltwide Interview with Jon Devine, Cotton Incorporated 8:47

Consultants Conference Chair Hank Jones, RHJ Ag Services
2021 Beltwide Interview with Hank Jones, RHJ Ag Services 5:58

Dr. Juan Landivar, director of the Texas A&M AgriLife Research and Extension centers at Weslaco and Corpus Christi
Estimating the Time and Rate of Harvest Aid Chemicals Using UAS
2021 Beltwide Interview with Dr. Juan Landivar, Texas A&M 9:47

Taylor Randell, UGA Weed Science – Can we Protect Postemergence Herbicides through a Combination of Preemergence Herbicides, Cover Crops, and Timely Applications?
2021 Beltwide Interview with Taylor Randell, UGA 6:40
Presentation Segments
Entire sessions are available on demand for registrants of the Beltwide Cotton Conferences
Registration link
Media can contact Marjory Walker (mwalker@cotton.org) or Cotton Nelson (cnelson@cotton.org) for access to full audio recordings.
-Consultants Conference-
"Weather Forecasting" – Eric Snodgrass, Nutrien Ag Solutions
2021 Beltwide - Eric Snodgrass, Nutrien 7:11
"Update on EPA's Pesticide Program Activities" – Michael Goodis, EPA, discusses dicamba decision
2021 Beltwide - Micahel Goodis, EPA 6:52
"Bt Resistance Management Panel" – comments from Jeff Gore, Mississippi State University
2021 Beltwide - Jeff Gore, Mississippi State 7:47
-Economics and Marketing Conference-
"Cotton Marketer of the Year Award" presented to Barry Evans, Texas cotton grower
Announced by O.A. Cleveland, Mississippi State; presented by Kenny Melton, BASF
2021 Beltwide Cotton Marketer Award 2:39
"Update on U.S. Ag Policy" – Bart Fischer, Texas A & M University – new agriculture committee leadership
2021 Beltwide - Bart Fischer, Texas A&M 1:40
"U.S. Cotton Market Outlook" – Jody Campiche, National Cotton Council – seed coat fragment increase in the SE
2021 Beltwide - Jody Campiche, NCC, seed coat fragments 1:58
"International Cotton Outlook" – Stephen MacDonald, USDA-OCE – conclusion
2021 Beltwide - Stephen MacDonald, USDA-OC 2:26
-Sustainability-
"U.S. Cotton Trust Protocol Is Now Launched" – Update from NCC president and CEO Dr. Gary Adams
2021 Beltwide - Dr. Gary Adams, NCC 23:29