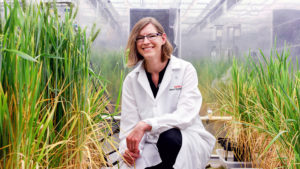 The $30 million Collaborative Crop Resilience Program (CCRP) brings together investigators from NC State University and three Danish institutions to discover ways to leverage the plant microbiome to make wheat more resilient against heat, drought and frost.
Funded by the Novo Nordisk Foundation, the parent organization of biological solutions leader Novozymes, the interdisciplinary research team will examine the microbes that live on, in or near wheat and find ways to harness those microbes to protect the crops from environmental stresses while reducing the need for chemical treatments and irrigation.
CCRP is part of the N.C. Plant Sciences Initiative, which aims to tackle the grand agricultural challenges through partnerships and innovative work by interdisciplinary teams.
"Food security is a problem too great for one discipline to solve," said project lead Amy Grunden. "Integrating collaborations across disciplines is key to finding solutions."