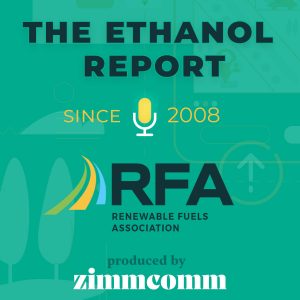 Last week brought a flurry of good news for the ethanol industry in three major areas – exports, expansion of higher blends, and protecting the renewable fuel standard.
In this edition of the Ethanol Report, we hear ethanol industry leaders comment on EPA denial of retroactive refinery waivers, Brazil's 90 day extension of its ethanol tariff rate quota, and the potential regular E10 fuel pumps could be used to dispense E15.
The podcast includes comments from Renewable Fuels Association president and CEO Geoff Cooper, RFA Board Chairman Neil Koehler of Pacific Ethanol, and RFA Board member Dave Sovereign of Golden Grain Energy.
Ethanol Report 9-21-20
(15:50)
The Ethanol Report is a podcast about the latest news and information in the ethanol industry that has been sponsored by the Renewable Fuels Association since 2008.
Choose an option to subscribe