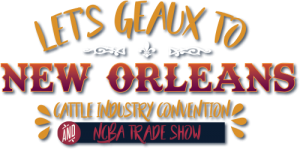 This is where you'll find links to photos, audio, and other information from the 2019 Cattle Industry Convention and NCBA Trade Show, in New Orleans, Louisiana January 30-February 1. This newsroom will be updated continuously during the convention and will remain as an archive for content after the event.
This virtual ag newsroom includes links to digital media content available free of charge for digital or print publication or broadcast.
Press Releases
Here's where you can find press releases as they are available.
Photos
2019 Cattle Industry Convention & NCBA Trade Show Photo Album
Audio
Interview with Dawn Caldwell, Chair, Federation of State Beef Councils Dawn Caldwell, Federation of State Beef Councils
Interview with Laurie Munns, Vice-Chair, Federation of State Beef Councils Laurie Munns, Federation of State Beef Councils
Interview with Jerry Bohn, Chairman, NCBA Policy Division Jerry Bohn, NCBA Policy Division
Interview with Marty Smith, Vice President, NCBA Marty Smith, Vice President, NCBA
Interview with Jennifer Houston, President-Elect, NCBA Jennifer Houston, President-Elect,NCBA
Interview with Kevin Kester, President, NCBA Kevin Kester, President, NCBA
Interview with Matt Lohr, Chief, USDA-NRCS Matt Lohr, Chief, USDA-NRCS
Interview with Colin Woodall, Senior Vice President of Government Relations, NCBA Colin Woodall, NCBA
Interview with Joan Ruskamp, Chair, CBB Joan Ruskamp, Chair, CBB
Interview with Kevin Good, VP of Industry Relations, CattleFax Kevin Good, CattleFax
Beef industry leaders on stage: Joan Ruskamp, Chair, CBB; Kevin Kester, President, NCBA; Gwen Geis, President, ANCW Beef Industry Leaders on Stage
Terry Bradshaw, Keynote Speech Terry Bradshaw Speech
U.S. Secretary of Agriculture Sonny Perdue, Press Conference Secretary Perdue Press Conference
U.S. Secretary of Agriculture Sonny Perdue, Convention Speech Secretary Perdue Stage Speech
Jennifer Houston, NCBA, Stage Chat Jennifer Houston, NCBA
Chuck Coffey, CBB, Stage Chat Chuck Coffey, CBB
Interview with Danielle Beck, NCBA Danielle Beck, NCBA
Interview with Ethan Lane, Executive Director, Public Lands Council Ethan Lane, PLC
Interview with Gary Porter, Board Member, NCGA Gary Porter NCGA
Interview with Kendal Frazier, CEO, NCBA Kendal Frazier, NCBA
Merck Animal Health/NCBA Press Conference – Merck Cattle Care365 Initiative and NCBA BQA Stockmanship and Stewardship Program – Chase DeCoite, BQA Director, NCBA; Angela Baysinger, Merck Animal Health and Amanda Welsh, Merck Animal Health Merck Animal Health/NCBA Press Conference