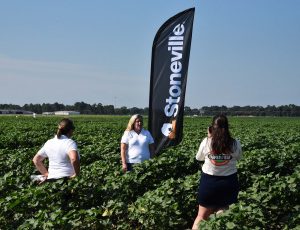 The Sunbelt Ag Expo Field Day brought hundreds of farmers from Georgia and surrounding states. The event let's you see demonstration plots with the latest innovative research, and visit with industry and university researchers to get up-to-date information on topics such as new seed and forage varieties, irrigation and water management, crop protection, soil fertility and precision agriculture.
Stoneville took advantage of this opportunity to showcase their cotton varieties. Below you'll find photos and interviews ready for your publishing needs.
This virtual ag newsroom includes links to photos and audio content available free of charge for digital or print publication or broadcast.
Photos:
2018 Sunbelt Ag Expo Field Day Photo Album
Audio Interviews:
Cotton Disease and Stoneville variety solutions: Rachel Walters, Southern Market Manager
Overview of Bacterial Blight Resistance and Stoneville variety solutions: Rachel Walters, Southern Market Manager
Fighting Worms in Cotton: Interview with Rachel Walters, Stoneville
Stoneville Varieties featured at Sunbelt Field Day: Chip Blalock, Executive Director, Sunbelt Ag Expo
Stoneville Cotton Varieties Shine at Field Day:
Stoneville Varieties Presentation at Sunbelt Field Day: Sunbelt Ag Expo Field Day Stoneville Presentation
Resisting Bacterial Blight in Cotton: Interview with Lucas Owen, Stoneville
Stoneville Varieties Show Strong Performance:
Video