The 2018 Commodity Classic is known as the largest farmer-led, farmer-focused convention and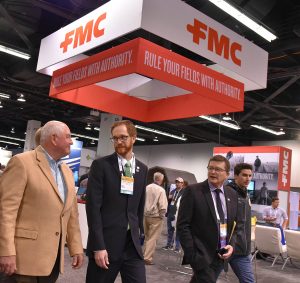 trade show. This year Anaheim, CA took the honors of hosting the event held Feb. 27 – March 1, 2018. The organizers American Soybean Association, National Corn Growers Association, National Association of Wheat Growers, National Sorghum Producers and Association of Equipment Manufacturers welcomed growers to 'Grow Beyond.' FMC attended and interacted with producers and discussed their newest products, as well as the future of FMC.
This virtual ag newsroom includes links to photos and audio content available free of charge for digital or print publication or broadcast.
Photos
Audio
Authority Supreme Herbicide, FMC: Interview with Brent Neuberger, Authority Supreme, FMC
Fighting Corn Rootworm with Steward EC: Interview with Brent Neuberger, Steward EC, FMC
Welcome to 'The New FMC': Interview with John Kasper, FMC
Expanding the Crop Protection Portfolio at FMC: Interview with John Raisler, FMC
FMC Offers Precision Solutions: Interview with Mike Harper, FMC
FMC Offers Season Long Disease Protection: Interview with Matt Wiggins, FMC