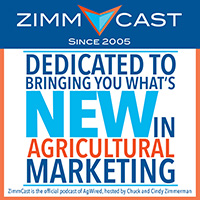 Hello folks. The ZimmComm Team is in post-NAFB Convention recovery which includes editing and publishing interviews and other content we created in Kansas City last week. This week's program includes feature interviews with our sponsors who help make everything happen.
In the program we're featuring interviews with FMC's Mike Krull about the FMC/Dupont integration, GROWMARK's Tim Berkland about their Enduring Farms program and AMVAC's Jim Lappin who talks about some new products on the market. You'll also be able to hear an excerpt from our Secretary of Agriculture, Sonny Perdue, who made his first visit to the meeting.
I don't know how many interviews we actually did during the annual NAFB convention but we are collecting them all into a Virtual Ag Newsroom on you know where – AgNewsWire!
Listen to the ZimmCast here: ZimmCast 566 - Feature Interviews with FMC, GROWMARK and AMVAC
Subscribe to the ZimmCast podcast here. Use this url in iTunes or your favorite news reader program/app.