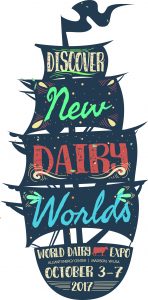 "Discovering New Dairy Worlds" was the theme for World Dairy Expo 2017 in Madison, Wisconsin October 3-7.
World Dairy Expo serves as a forum for dairy producers, companies, organizations and other dairy enthusiasts to come together to compete, and to exchange ideas, knowledge, technology, and commerce.
This virtual ag newsroom is sponsored by Alltech and Hubbard Feeds and includes links to photos and audio content available free of charge for digital or print publication or broadcast.
2017 World Dairy Expo Photo Album
Audio files
Alltech and Hubbard at #WDE2017 –
Enter the Great Green Getaway Sweepstakes –
Interview with Jenn Norrie, Alltech
CRYSTALYX® Part of the Alltech Family Now –
Interview with Tim Clark, Ridley Block
Alltech Talks Mycotoxins at #WDE2017 –
Interview with Dr. Max Hawkins, Alltech
Keenan Alltech Offers Nutrition Solutions –
Interview with Dan Gard and Eva Griffin, Keenan
Improving Crops Through Biological Products –
Interview with Brian Springer, Alltech
Alltech Dairy Specialist Knows Cow Comfort –
Interview with Tom Lorenzen, Alltech Interview with Pat Crowley, Alltech Interview with Ken Peterson, Hubbard Interview with Jon Pretz, Hubbard Feeds
WDE General Audio –
Building Trust Key For U.S. Dairy Industry –
Tom Gallagher, DMI Tom Vilsack, U.S. Dairy Export Council DMI-USDEC Panel Discussion
Dairy Woman of the Year Shares Checkoff Goals –
Interview with Marilyn Hershey, DMI
Wisconsin Milk Marketing Board –
Interview with Chad Vincent, CEO WMMB
National Hay Association: Forages Important to Dairy Industry –
Interview with Amy Freeburg, National Hay Assn.