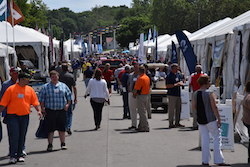 The National Pork Producers Council, (NPPC) hosts the annual event which features the world's largest pork-specific trade show, educational seminars, youth and open swine shows, market outlook sessions and lots of pork.
NPPC expects about 20,000 producers and pork professionals, including more than 1,000 international guests. Nearly 450 companies from North America, Asia and Europe will display the latest products, services and technologies for pork businesses in the trade show.
This virtual newsroom includes links to photos, audio, and video from the conference. All content posted here is available free of charge for digital or print publication or broadcast. Credit can be given to AgNewsWire.
Audio:
NPPC President Pleased with Pork Expo – Interview with Ken Maschhoff, NPPC president

NPPC Gives Voice to Producer Concerns – Interview with Dustin Baker, NPPC

Topics: World Pork Expo Overview, SIP Update, WOTUS, Regulatory Reform, GIPSA, Farm Bill – National Pork Producers Council press conference 1

Topics: Trade, FMD Vaccine Bank, Economic Update – National Pork Producers Council press conference 2

FMD/Secure Pork Supply: Creating an On-Farm Response Infrastructure National Pork Board press conference 1

Pork Board Announces Secure Pork Supply Plan –
Interview with Patrick Webb, Pork Checkoff

The Pork Checkoff: Marketing to the Generation M –
National Pork Board press conference 2

Aptimmune Launches World's First Mucosal PRRSV Vaccine –
Aptimmune press conference
Interview with Aptimmune CEO Aaron Gilbertie