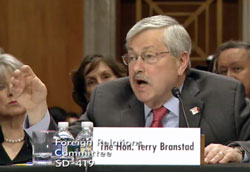 Iowa Governor Terry Branstad drew on his agricultural trade and ethanol experience, as well as his 30 year friendship with Chinese President Xi Jinping, during his confirmation hearing Tuesday before the Senate Foreign Relations Committee.
When asked by Sen. Christopher Coons (D-DE) what he will do to get more U.S. chickens to China, Branstad agreed that China needs to have "a fair and open market" to all commodities. "We do sell them a lot of pork, but beef is presently restricted as well…and I think there's more opportunity for dairy," said Branstad. "When it comes to agriculture products, this is an area that I've had a lot of experience in."
Listen to Branstad and Coons here: Iowa Gov. Branstad confirmation hearing with Sen. Coons
The U.S. ethanol industry is looking forward to Gov. Branstad supporting their interests in China and expanding the market for ethanol and distiller's grains. "China has been a top export destination for U.S. ethanol and distillers dried grains, and we look forward to what Branstad can accomplish with China and its people to further develop this marketplace," said Brian Jennings, executive vice president of the American Coalition for Ethanol (ACE).
Listen to his comments here: Iowa Gov. Branstad confirmation hearing, renewable energy