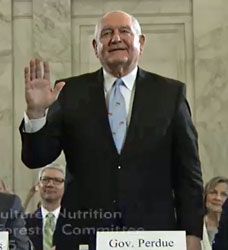 The Senate Agriculture Committee held a confirmation hearing March 23 for former Georgia Governor Ervin "Sonny" Perdue III who has been nominated by President Trump to serve as Secretary of Agriculture.
During the hearing, Perdue outlined his four overall goals as agriculture secretary – to maximize opportunity of agriculture to create jobs, prioritize customer service every day, ensure a safe food supply, and protect the resources of the land.
The nominee answered questions on a number of issues, including government regulations, trade, avian flu, and budget.
Listen to Perdue's opening statement here: Sonny Perdue at confirmation hearing