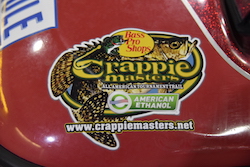 Welcome to the virtual newsroom for the 2017 Crappie Masters tournament trail sponsored by The Renewable Fuels Association, American Ethanol, and Bass Pro Shops. It's the Grenada Lake National Qualifier Mississippi State Championship.
During the event, Chuck talked with several teams about their use and experience with E10 gas in their boat engines.
This virtual newsroom includes links to photos, audio and video from the conference. All content posted here is available free of charge for digital or print publication or broadcast. Credit can be given to AgNewsWire.
2017 Crappie Masters Grenada Tournament
Crappie Fishing and Ethanol
ZimmCast with Brian Sowers, Crappie Masters
Crappie Masters is Big Target for Ethanol Message
Interview with Crappie Masters Owner Mike Vallentine
Audio:
Interview with Brian Sowers, Crappie Masters TV Interview with Terry Richard, RFA Fishing Team member Interview with Billy Don Surface & Kevin Jones, Missouri Corn Fishing Team members Interview with Casey Rayner, RFA fishing team member