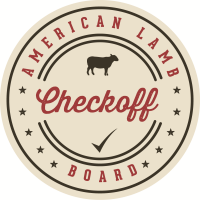 Lamb producers were introduced to the industry's first set of Productivity Best Practices at the 2016 Sheep Industry Convention January 27-30.
Lambs sold per ewe is the biggest influence on profitability, and implementing the new Best Practices to Increase Your Lamb Crop gives sheep producers more control over price volatility, according to the panel of sheep producers and production experts who developed the best practices.
"The long-term vision is to increase demand and profitability for the entire U.S. lamb industry," says Wes Patton, a California sheep producer who chairs the American Lamb Board. "As demand is increased over time, we want more American Lamb on more consumers' plates. That involves improving consistency and quality, while increasing productivity and reducing costs of production. By using best practices, the U.S. lamb industry can implement change that leads to increased demand and profitability."
The American Lamb Board, which administers the lamb checkoff, supported the efforts to develop the lamb crop best practices in collaboration with other industry groups, including the American Sheep Industry Association's "Let's Grow" program.
To make best practice information as accessible as possible, it is part of the new U.S. Lamb Resource Center website (www.LambResourceCenter.com). Funded by the national lamb checkoff program to support the efforts of the entire industry, the Lamb Resource Center pulls together important information from major sheep organizations into one central location. Topics on the site include the lamb checkoff, industry and market news, marketing, Productivity Best Practices, and other production resources.
Read Full Release Here.