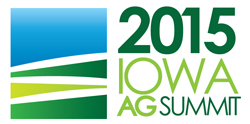 Nine potential Republican presidential candidates were asked their opinions on various agricultural issues at the Iowa Ag Summit in Des Moines on March 7.
>The summit was organized with the support of America's Renewable Future, a quasi-political campaign for the RFS introduced earlier this year which intends to approach all potential presidential candidates individually and invite them to visit and learn more about agriculture and renewable energy.
Iowa livestock producer and ethanol supporter Bill Couser is co-chair of the program. Interview with Bill Couser, America's Renewable Future Co-Chair
The summit was attended by former Florida Gov. Jeb Bush, Texas Sen. Ted Cruz, New Jersey Gov. Chris Christie, former Arkansas Gov. Mike Huckabee, South Carolina Sen. Lindsey Graham, former New York Gov. George Pataki, former Texas Gov. Rick Perry, former Pennsylvania Sen. Rick Santorum, and Wisconsin Governor Scott Walker who were each interviewed by by summit organizer Bruce Rastetter.
Iowa Ag Summit - NJ Gov. Chris Christie
Iowa Ag Summit - Texas Sen. Ted Cruz
Iowa Ag Summit - Wisconsin Gov. Scott Walker