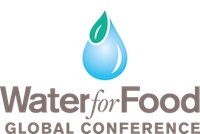 Mobilizing new data gathering capabilities to improve global water and food security is the subject of the sixth annual Water for Food Global Conference, hosted by the Robert B. Daugherty Water for Food Institute at the University of Nebraska in association with the Bill & Melinda Gates Foundation Oct. 19-22 in Seattle, Wash.
The event is the premier gathering of world experts working to develop new approaches to produce more food with less pressure on water resources. It brings together researchers and policy analysts, farmers, government leaders, and non-governmental organizations and business representatives.
Remote sensing, precision agriculture, GPS services, satellite imagery and the supercomputing power to analyze the tsunami of data available are transforming agricultural and water management.
This year's conference theme, "Harnessing the Data Revolution: Ensuring Water and Food Security from Field to Global Scales," will provide a forum for global experts and policy leaders to discuss ways to effectively manage and use data-gathering technology to conserve water and improve crop yields for farming systems, large and small, around the world.
Listen to or download an interview about the conference with Dr. Christopher Neale, Director of Research for the Robert B. Daugherty Water for Food Institute at the University of Nebraska. Interview with Christopher Neale, Water for Food Institute