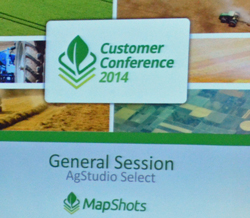 MapShots held its annual Customer Conference February 7-8 at the Georgia Tech Learning Center in Atlanta. This event brings in MapShots customers as well as third party partners for an intensive couple of days of training sessions and presentations.
MapShots is a software development company that provides crop management applications for the agriculture industry, including AgStudio software for managing large amounts of agronomic crop production data.
Links to photos, stories and audio interviews from the conference can be found below.
AgNerds Love MapShots Customer Conference Interview with Keith Baker
AgStudio Driving a Growing MapShots MapShots and AgStudio
Veris Brings More Truth to MapShots Products Interview with Eric Lund with Veris
Customer Support Top Priority for MapShots Interview with Shauna Ingram
John Deere, MapShots Work for Product Integration Interview with Brian Holt, John Deere
MapShots Provides Knowledge, Info and Direction Interview with Phil Howard, Southern States Cooperative
MapShots, Raven Work Together for Proof of Success Interview with Josh Skanderup, Raven
Geovantage Has Birds-Eye View of MapShots Info Interview with Nick Morrow, Geovantage
SatShot, MapShots Integrate for Better Imagery Interview with Lanny Faleide, President/CEO of SatShot
MapShots Integrates Irrigation into Precision Ag Interview with Andrew Willis with AgSense
MapShots' Customers Show the Love Interview with Brian and Myles Vulgamore
Easy Integration with MapShots & AgIntegrated Interview with Mike Santostefano, AgIntegrated
MapShots Review: Happy Customers & Good Ideas Interview with Tim Taylor, MapShots