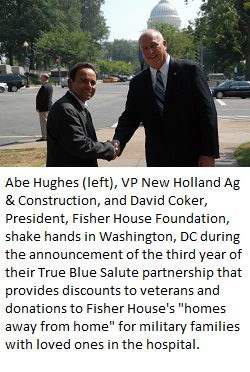 This week, we reflected on the 12th anniversary of the Sept. 11th terrorist attacks on New York, the Pentagon and Pennsylvania. To honor the sacrifices our veterans and active military and their families have and continue to make, New Holland has partnered with Fisher House, a charity that gives military family members shelter and support during a medical crisis at any of Fisher House's 61 homes worldwide. From now until Nov. 11, 2013, Veterans Day, New Holland will give military, veterans and first responders a $911 discount on eligible pieces of equipment sold and donate $250 for each piece of equipment sold to veterans to Fisher House.
You can hear the interviews with Abe Hughes, the Vice President for Ag and Construction at New Holland, and David Coker, the President of Fisher House Foundation, as they meet in Washington, D.C. to announce the start of the True Blue Salute.
Interview with Abe Hughes, New Holland
Interview with David Coker, Fisher House
And you can check out some behind the scenes pictures from New Holland's and Fisher House's video about the True Blue Salute on RFD TV.