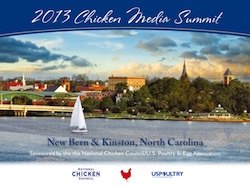 Media from across the country were invited to attend the very first Chicken Media Summit. The National Chicken Council and US Poultry & Egg Association sponsored the three day event to inform, educate and create transparency throughout the chicken industry.
Attendees got up close and personal with the life of a broiler, touring a hatchery, grower barn and processing plant. The entire event was setup for the media and members of the poultry industry to rub shoulders and engage in conversations, allowing many questions to be answered. Hot topics discussed included: animal welfare, bio security, antibiotics, modernization, sustainability and the global outlook.
Audio:
Bill Weldon, PhD., Elanco Animal Health Bill Roenigk, Sr. Vice President, National Chicken Council John Starkey, President, USPOULTRY Lampkin Butts, President & Chief Operating Officer, Sanderson Farms Dr. John Glisson, Director of Research Programs, USPOULTRY Brooks Edmundson, Contract Grower, Sanderson Farms Chicken Company Executives Panel Issues in the News Panel
Photos:
View and downloads photos from the event: Chicken Media Summit photo album.